Tonight was the Maggie Beer Mystery Box challenge. Masterchef has been advertising "What is in the box" all last week, you can't eat it and you can't cook with it. The mystery box contained secateurs and gloves. The contestants had to use ingredients from the Masterchef garden, it contained herbs, fruit and vegetables.
The judges will only taste the top 5 dishes and the dish must impress Maggie Beer.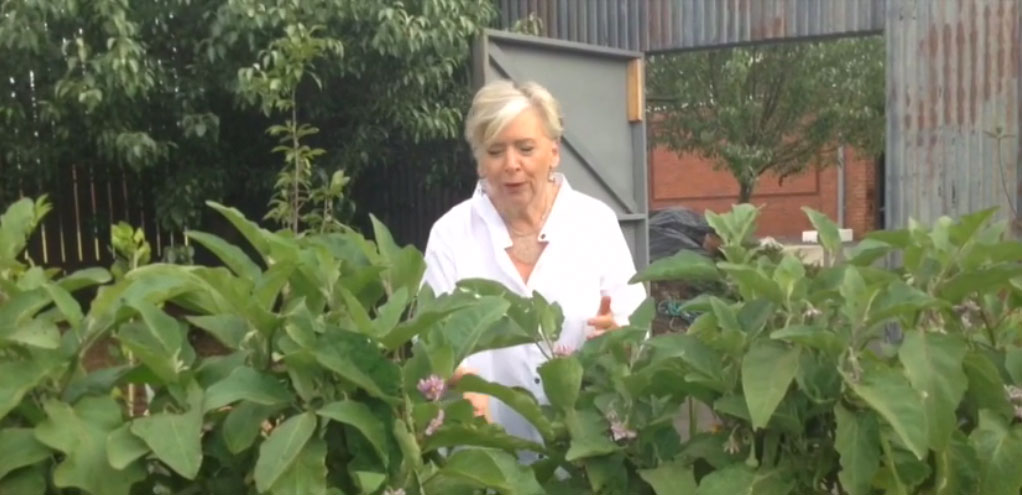 Reynold was having issues. The judges didn't like his first idea for a dish, he decided to change it to a Bomb Alaska. His ice cream wasn't setting and he had to do his meringue twice and his ice cream wasn't set with only 10 minutes to go, he put it in the blast chiller.
Sara was making tortellini, with only 5 minutes to go, she still hadn't put them in the water. It was a rush to the finish.
Reynold takes his ice cream out of the blast chiller and pops it out of the mould but it isn't set. He decides to decorate it with meringue anyway.
Time is up and it's time to see whose dishes they will be tasting.
First up is Georgia. She has made some ice cream sandwiches with a lemon and thyme syrup. The judges clearly can't wait to taste them. Maggie loves it.
Next up is Kristina. She has made baby carrots and eggplant pasta. Maggie says she has nailed the pasta. Gary says it's a simple idea that tastes and looks beautiful.
Next is Matt with a chocolate mint parfait.
Next is Jessica with a Mediterranean vegetable tart.
Next is Sara with a eggplant and ricotta tortellini.
Gary announces that they have decided to taste six dishes today.
The sixth dish is Melita. She has cooked a stuffed zucchini flower with ricotta and basil and a vegetable ragu.
The winner of the mystery box challenge is Melita.
Melita gets the advantage and is able to go into the pantry to choose the mystery ingredient. Melita is hoping the next round is to cook a dessert.
The ingredients to choose from are apples, stone fruits or berries. The catch is that she needs to cook something savoury. This makes her decision more difficult.
Melita has chosen stone fruits. What the other contestants don't know yet is that this invention test is that the stone fruits have to be used in a savoury dish. They have 60 minutes to cook in. The top three get a chance of immunity and the bottom three will end up in a pressure test.
Fiona is really struggling with the challenge and with 25 minutes remaining on the clock she hasn't cooked anything. After a pep talk from the judges hopefully she is back on track.
Judging
The judges begin their tasting with John's dish. Gary liked the dish, it delivered the crunchiness. Matt said the coriander made the plum savoury and he had turned his dish into a good restaurant take on a take away dish.
Sara's pan seared duck breat was really beautiful. Reynolds chicken with cherries was perfectly cooked and the presentation was "immactulate".
Jamie's crispy pan seared quail recipe was "super dry". It was over cooked. The breadcrumb was good but that was about it for his dish.
Gary asked if Fiona's chicken was a "little pink". It was, some of it was undercooked. The flavours of the rest of the ingredients were good, but the chicken was not.
Billie's pan seared duck dish was amazing, the judges loved it. George said it was the best dish he has tasted all season. Matt said the puree was delicious and the blue cheese drops in it were a great surprise.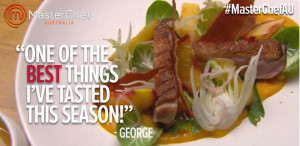 Rose's twice cooked chicken was dry. It wasn't a good dish. The judges told her to stick to her strengths.
Jessie's dish was "absolutely delicious", it was simple but elegant dish.
Jacqui's quail was undercooked and her salad wasn't very good. Gary said " it wasn't a good dish". Will this put her in the bottom three?
Results
There was a lot of competition for both the bottom three and the top three places tonight. The three contestants going into the immunity challenge are John, Billie and Jessie.
The bottom three contestants going into the elimination challenge are Jacqui, Fiona and Rose.