Tonight was the first night of Tracy's power and she chose the mystery box. The ingredients she chose were:
Lemon
Sugar Snap Peas
Skate
Custard Apple
Mint
Goats Cheese
Jerusalem Artichoke
Nutmeg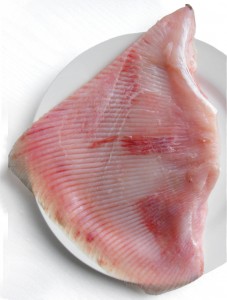 A lot of the contestants had not cooked skate before, some had not even tasted it, so Emelia and Brent both cooked a piece different ways to see how it tasted. Tracy planned to cook goats cheese tortellini with peas, Sarah was cooking goat's cheese and mint parfait with biscuits. Colin made pea and goats cheese tart and Laura made a lemon cheesecake.
Emelia didn't like the skate after cooking it, so she decided to make an artichoke creme brûlée. Ben made a warm skate salad with mint peas.
The judges decided to taste Tracy's tortellini first. It was creamy and salty, the peas and mint worked together well. Matt Preston said she had a cracking dish and set the bar high.
Next to be tasted was Brent's pan fried skate with pea and jerusalem artichoke salad. The judges loved it, it was a smart dish, clever and unique.
The judges chose Emelia's jerusalem artichoke creme brûlée. It had a good 'crack' but the eggs were curdled. The flavour was magnificent but it was a shame the curdling spoiled the texture.
Finally Sarah's parfait was judged. Gary loved it, it was technically very very good but the mint sauce could have been better.
The judges chose Brent's dish as the winner.
Invention Test
The contestants were put in front of a bunch of presents. Each present contained a core ingredient and the contestants were assigned a present each. Tracy also allocated cooking time.
Ben had 30 minutes to cook with chillies
Laura had 60 minutes to cook with carrot
Jamie had to cook with guava and had 30 mins
Colin had 60 minutes to cook chicken
Amy had 60 minutes to cook beans
Kira had 15 minutes and turkey
Emelia had 30 minutes and escarcogt
Brent had 30 minutes to cook chocolate
Renae had eel and 60 minutes
Sarah 15 minutes to cook tripe
Tracy gave herself snapper and 60 minutes
The power Brent won from the mystery box challenge allowed him to swap his box with someone else. He chose to swap with Colin.
Renae was scared of the eel, she said she had a strange phobia and would have to go straight to elimination because she couldn't bring herself to cook it. Colin helped her and cut it up for her. This allowed her to cook the meat and stay in the competition.
Ben made a prawn and chilli dish, Colin decided to make a chocolate mousse, pan fried sponge and berries. Tracy made a snails with a squid ink soil to look a bit like a garden. Jamie made grilled prawns with guava chutney and Brent cooked roast chicken. Kira had 15 minutes to make popcorn turkey with a mayonnaise. Sarah decided to make crispy tripe with tomato sauce.
Colin's sponge was too doughy, Brent's chicken skin was rubbery so had to remove it, Jamie's prawns were put on late and he wasn't sure if they'd cook through in time.
Judging
The first dish to be tasted was Kira's popcorn turkey. It was burnt, so there was a good chance she would be in the bottom three.
Next was Renae, her autumn salad with smoked eel looked amazing. It was a "really sophisticated, complex dish".
Brent's roasted chicken breast with pumpkin puree and leek was cooked beautiful, but the missing skin was an issue.
Emelia's snails with herb butter with parmesan squid in soil was "absolutely brilliant". The flavours worked great together.
Jamie's grilled prawns with guava chutney and herb salad was next. The prawns were undercooked.
Amy's asian poached beef fillet with stir-fried pig face was delicious.
Laura's prosciutto wrapped roasted quail with carrot puree was fantastic, George loved it.
Ben's chilli prawns with coriander rice were "medicinal". It wasn't a good dish, but at least the prawns were cooked.
Colin's pan fried sponge with chocolate mousse and berries didn't look very good. The judges couldn't find the mousse and the sponge was "elastic", it was a bad dish and it didn't work.
Sarah's crispy tripe with tomato sauce was delicious. The judges loved the dish.
Finally, Tracy's snapper tostadas were fantastic.
The three worst dishes tonight will be going in to a pressure test tomorrow. The three losers tonight were Jamie, Colin and Kira.