Tonight is a pressure test between Tash, Amy and Byron, who was eliminated? Marco Pierre White set the challenge, to replicate one of his famous dishes from his white heat cook book. The dish was roast pigeon with ravioli of wild mushrooms. Byron has been in the most pressure tests out of the three, is it his time to go home?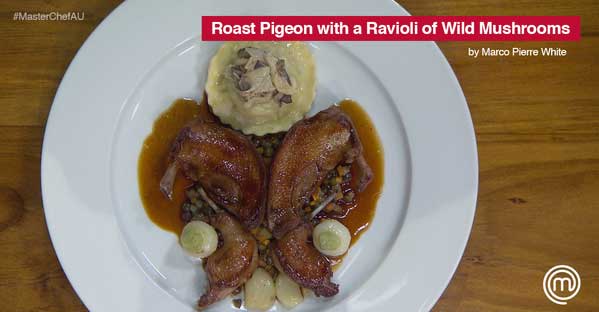 Each of the contestants read the recipe thoroughly. Amy was first off the mark, having drawn the plating, she was off cooking her lentils. Tash was next and started with the confit garlic and moved on to the pasta dough but had trouble getting it to combine. Byron was the last to start cooking, having spent 20 minutes reading the recipe. He was very overwhelmed.
Who was going to be eliminated from Masterchef tonight? At this point it looked like it might be Byron.
There were flames blown out by Marco from Tash's sauce but Amy's sauce had too much cherry vinegar, she didn't measure it and just used her "intuition" to measure out 2 teaspoons.
Tash was unravelling towards the end of the challenge, she was running out of time by having made the elements of the dish in a different order to that of the recipe. Byron was also struggling with the dish having prepared his pigeon with only 30 minutes to go.
Amy was on to her pasta for the ravioli. Tash's pasta had too much oil and wouldn't work through the pasta machine. Byron had never cooked pigeon before so hopes he cooks it right, Marco tastes his sauce and thinks its good.
With seconds remaining, the contestants were all down to the line. Marco was shouting at Byron, he burnt his fingers pulling his turnips out of the water but his dish looks good. Tash forgot her turnips on the plate.
Judging
First up to be judged was Amy. Her dish looked good. There was good colour in her pigeon breast and was beautifully cooked. Marco enjoyed the dish and thought she did very well.
Next up was Tash. She was missing her turnips. The lentils were a bit "nutty" and slightly under. The pasta wasnt' very good.
Finally Byron was up. He put everything he had into the dish. The pigeon had good caramelisation but there wasn't enough jus which let down the dish. There was nothing to tie all the elements together. The judges were torn between Byron and Tash's dishes.
The contestant eliminated from masterchef tonight was Byron