Tonight was the masterchef come back, one contestant will return to the competition. All the eliminated contestants were eligible. The eliminated contestants were given two mystery boxes. The first box had all the ingredients from their eliminated dish, the second dish contained ingredients from their best dish in the competition. The eliminated contestants had to choose which box they would cook with, if they chose the eliminated ingredients they had 60 minutes to cook, but if they chose the best dish ingredients they only had 30 minutes.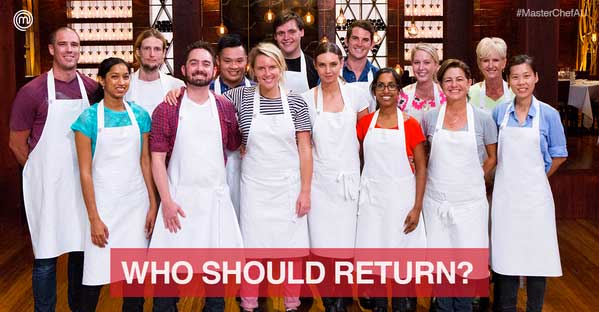 Most of the contestants chose the eliminated ingredients so that they maximised the amount of time they had to cook. A few contestants chose their best ingredients, including Deepali, Nicole, Nick and Emily.
Brendan looked like a tough competitor. Although he was the first eliminated, since leaving Masterchef 2014 he has done more than 300 hours in a professional kitchen. He was clean, calm and very precise in the Masterchef kitchen.
Emily broke her jar of Sambal and glass shattered everywhere. For some reason she thought it would be a good idea to "filter out the glasses" and still put it in her dish. Its most likely the judges won't taste her dish.
Rushing to finish their dishes, they all got their components on the plate. Nick's dish looked terrible, Georgia's however looked amazing.
Judging
The first dish to be tasted was Brendan's Chinese pork loin with pickled mushroom and lotus chip. He was eliminated because of undercooked pork. His pork this time was tender, it was delicious and his mushrooms were the perfect accompaniment to the dish.
The next dish was Rachel's. Her saltbush encrusted pork with native greens. This was the same dish she was eliminated on. The native greens complimented the pork well, it had good presentation and overall was a "smashing dish".
Tash's leek, asparagus and mint puree. It was a "smart vegetarian dish"
Nicole had buckwheat crepes with duck. The judges were impressed with how much she cooked.
Deepali's indian dish was "good home cooking" with "tonnes of flavour"
Nick's dish was next. The judges said "what is that?", his dish didn't look very good at all. It was a White chocolate ganache with hazelnut sponge and citrus crumble and was delicious but the judges weren't convinced. Nick doesn't make it through
Next up was Byron's pigeon two ways with brown butter shallots. Part of the squab was missing and George thought it was a pretty small serve. It was "such a shame" that the dish wasn't easy to eat and wasn't coherent. Byron didn't make it through.
Sean's garlic and thyme prawns with herb salad was clean and well cooked. Matt gave him a "yum" and Gary gave hime two "yum"s.
Same made snapper and smoked prawn sushi rolls. There wasn't enough to taste.
Scotts mango souffle wasn't great.
Stephen's black rice pudding had a star anise still in it.
Emily's fish head stuffed longans with spicy sweet and sour sauce was beautifully plated but the judges didn't taste the dish.
Georgia's chicken roulade with a fig and onion relish and moroccan rice in a smoking dome. It looked spectacular. Gary loved the dish, the chicken was cooked to perfection, it was moist and delicious and the best thing she had cooked in the competition. George thought the rice wasn't needed.
Sarah also cooked a roulade, it was stuffed chicken roulade with carrot puree. It was the dish that sent her home but this time the chicken was cooked perfectly. The carrot puree wasn't perfect.
Brendan, Sean, Sarah, Rachael and Georgia were in the top 5.
The contestant who comes back to Masterchef 2014 is Sarah
There was a lot of reaction on twitter with people thinking this was a rigged decision. The judges have always liked Sarah previously in the competition.