Today is a 6 course degustation cook-off to raise money for the starlight foundation. Each team must cook three dishes and the winners will go into a challenge tomorrow with the winner of that challenge getting a huge advantage next week. The main ingredient was cirtus, every dish must include this as an ingredient.
The teams where, Red team:
Sarah (captain)
Kira
Ben
Laura
Colin
Blue team
Jamie (captain
Emelia
Renea
Amy
Brent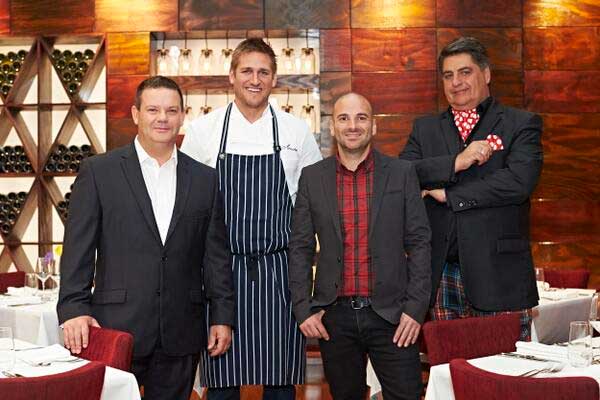 The dishes were going out in an alternating order starting with the red team. Their first dish was a lemon cured salmon with a carrot mousse, pickled beetroot and fennel. Sarah wanted a lemon sorbet on the dish, they put it on the menu but it didn't set in time. George thought this could be forgiven because it was a tasty dish. Without the sorbet though it was missing the citrus element.
Next up was the blue team's first dish. It was a roast pumpkin and orange soup with smoked cumin yoghurt and croutons. The judges thought it was a bit simple. It was a delicious tasting soup but they could have done more. The blue team originally wanted to do
The red team's second dish was seared duck breast with an orange gastrique. Colin had to help with the salmon dish so was behind with his duck. The dish was over 4 minutes late getting out and toward the end they ran out of duck. By the time they got their dishes out it was 17 minutes after they were supposed to go out. They had to give the judges off-cuts and the judges were appalled. Eventually Colin found the missing duck breasts sitting on top of the fridge.
The blue team's second dish was lamb cutlet with winter vegetables and citrus crumb. Brent was in charge of cooking the lamb racks. They were cooked in a sous vide machine then pan fried to finish them off. While he was resting the lamb Curtis Stone came over and touched them, they were undercooked and he had to put them back in. The lamb that was served to the judges was well cooked, but some of the diners had undercooked lamb. The judges said it was the dish of the day so far.
The final dish of the red team was an deconstructed upside-down vanilla cheese cake with a citrus sorbet. The judges liked this dish. It was a bit sweet but it was counteracted by the citrus, overall it was a lovely dish.
The blue team's final dish was a chocolate parve with a fig and citrus gel. The dish looked very good. The judges didn't like the gel, it spoiled the dish. The chocolate parve was really good.
The winner of the team challenge was the blue team