Who was eliminated from Masterchef tonight and did Laura use her immunity pin? The losing team from last night's English challenge, Emelia, Colin, Laura, Kira, Tash and Brent have to face off in an elimination challenge. Laura has an immunity pin and she chose to use it tonight.
To decide what will cooked in the challenge tonight Emelia had to pull a knife out of the knife block. She pulled out the knife and on it was Risotto. Unfortunately this was the perfect dish for Laura.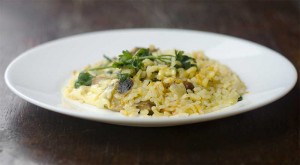 Kira decided that she would make a quinoa risotto. Both the judges and the contestants on the balcony were a bit unsure about this, but she stuck to her guns. Colin was building up a flavour-packed stock for his risotto. Brent was making a poached chicken, mushroom and hazelnut risotto and Tash was making an asparagus and lemon risotto.
Tash had put her risotto on very early and she put a lot of wine in her dish. Brent forgot to cook his chicken and it was right down to the line to get it cooked. It was still slightly pink but he thought it would cook through when combined with the risotto. Kira's quinoa wasn't cooking through. With seconds to go, all the contestants got their dishes on the plate.
Judging
First to be judged was Colin. He made dill risotto with prawns. He was fairly happy with it. His risotto was a little al dente, it needed a couple more minutes. The lemon and prawn gave it a very good flavour. The judges were happy with it.
Next up was Brent. His mushroom and hazelnut risotto with poached chicken smelled really good. It lacked seasoning, it needed more salt and butter and the flavours could have been stronger. The chicken was poached well.
Kira's pumpkin and quinoa risotto was next. She believed in her dish, she said the judges want to see "me on a plate". Gary asked Marco if this was a risotto, he said "not in my book". However, "it was the most delicious dish", the quinoa was al dente so it gave a similar texture to risotto and it "re-invented what risotto could be".
Emelia's fennel risotto with prawns was next. She had a bit of a teary in front of the judges. Her rice was cooked absolutely perfectly. It was a delicious dish, the flavours were perfect.
Finally, Tash was juged. Her asparagus, mint and lemon risotto had a lot of sauce and the consistency of the rice was the best of all the dishes tonight. The main problem was the imbalance of acidity, the lemon and wine were too strong.
Kira's quinoa risotto was the dish of the day.
The contestant who was eliminated from Masterchef tonight was Tash.