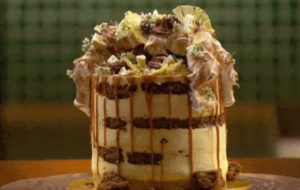 It's a Masterchef Elimination pressure test tonight. Pia, Ray and Pete must compete against each other to cook a dish by Andy Bowdy. Who will be eliminated?
The dish is a cake called "Rita". It contains an amazing number of elements including a bavarois, crumb, merringue and so many more elements.
The contestants have 4 1/2 hours to build the cake. The recipe itself has 12 individual recipes.
Both Pia and Pete seem to be having trouble with the recipe. Pete makes an average batch of caramelised pecans, then burns his second batch. Pia has trouble making her meringue so throws it out and makes a second batch.
Ray and Pete begin to assemble their cakes. Any questions whether Ray's cake will be straight as his base is thin and lopsided. Pia is running behind the others but she finally starts assembling her cake.
Pete takes the mould off his cake and begins to decorate it. Pia is already decorating hers too. Ray is worried about his cake as it's bulging at the sides. Ray is rushing to decorate his cake now. Time is up!
It's time for the judges to taste the cakes. Pete is up first. The judges are impressed with the look of the cake, now it's time to cut into it and taste it. George says he's done a really good job. They do notice the burnt pecans but they like it. Matt says he loves it.
Next up it's Ray. The judges notice the cake is bulging and that the meringue does not have enough colour on it. They taste the cake. Matt says the cake has nice flavour. Andy says the crumb at the base was quite hard.
Finally it's Pia's turn. They taste her cake. Gary says there are elements in this cake that make it quite heavy. The meringue is also grainy.
It's time to find out who will be eliminated.
Pete and Ray are safe.
Pia has been eliminated from Masterchef Australia 2017.