Tracy had the ultimate power in elimination tonight. She was able to save one person from elimination. Who did Tracy save? She saved Laura. This left four people left. They had to get into pairs and cook against each other. The theme was Mexican and the losing team will cook off against each other to decide who is eliminated.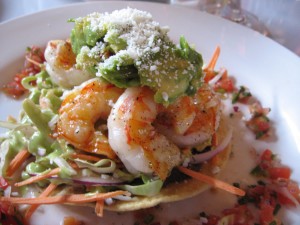 Colin and Renae cooked against Brent and Amy.
Both teams planned to make a banquet style mix of elements. Gary told both teams individually that he didn't want to see a do-it-yourself BBQ style dish but an elegant restaurant dish.
Brent and Amy cooked snapper, corn, salsa and tostadas. Brent had an idea to cut the tostadas into flames and present a modern style dish.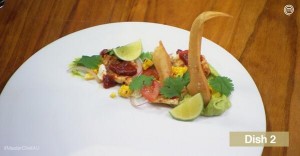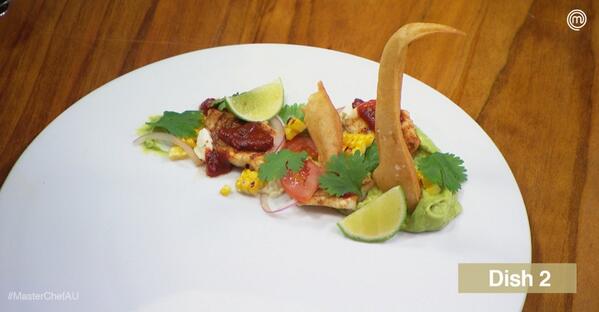 Colin and Renae decided to cook 3 spiced bean mix, salsa, corn and prawns on a tostada. They were initially going to use packet tostadas but overheard that the other team were making their own they changed plans and tried to make their own. Unfortunately colin broke the tostada machine and it just wasn't working for them so they switched back to the packet ones.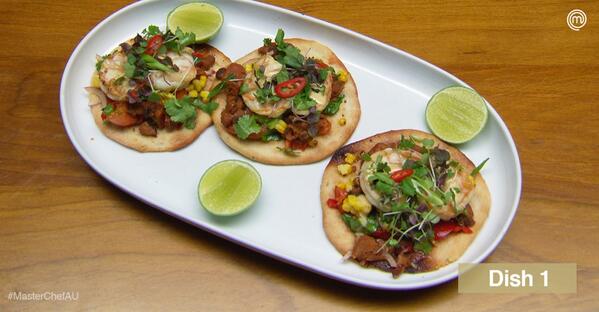 Both teams got their dishes on the plate.
First to be tasted was Colin and Renae's dish. It was prawn and bean tostadas with lime & chipotle mayonnaise. The judges
Gary said "yuck". The tostadas were terrible. The bean mix was bland and underseasoned. The prawns were cooked well, but the rest wasn't good.
Next up was Brent and Amy's mexican spiced snapper with adobo sauce, guacamole and corn. The presentation was "nice" but it was subjective, Gary didn't really like the negative space on the plate and Matt said it looked like a Mexican peacock wading through the snow. The judges loved the taste of the dish and Brent and Amy were safe.
Colin and Renae had to cook off, with the winner to survive.
Round 2
Round 2 was Mexican again. Colin and Renae had to cook a dessert and they had 60 minutes.
Renae decided to cook chocolate chilli and lime fondant and Colin decided to cook lime sorbet with chocolate chilli ganache and a tuile.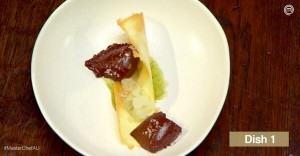 Half way through, Renae decided to make a chilli praline and creme fresh meringue. Colin was struggling a bit.
Renae hesitantly decided to test one of her fondants (she made several). It came out of the container but collapsed and oozed out of the side. She tried another and it came out ok. There were concerns that Colin's dish had nothing to tie it together.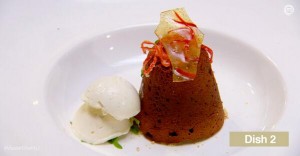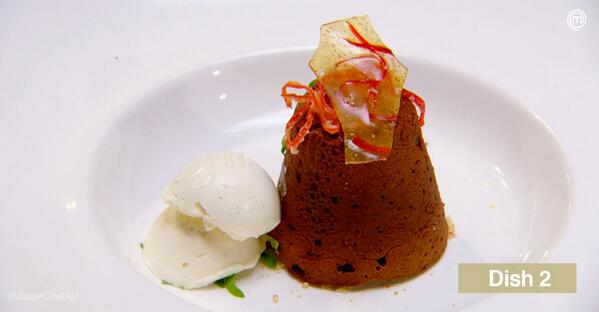 Judging
First dish to be tasted was Colin's chilli chocolate ganache with lime granita, lime tuile and coriander syrup. Individually the components were good but when you put them together it didn't really work well. It lacked cohesion but it had good technique.
Renae's chocolate chilli fondant with salt and chilli praline and creme fraiche parfait was next to be judged. The fondant was gooey inside and the dish was "a proper dessert". Gary didn't like the fondant mixture, it was too floury. She "nailed the brief" by the floury mixture was an issue.
Colin was eliminated from Masterchef Australia tonight.