Masterchef immunity pin challenge tonight started with a cheese challenge. Brent, Renae and Rachael all had to guess the name of the cheeses one after another. If they guessed incorrectly they were instantly out of the challenge. They contestants could taste as many cheeses as they'd like before guessing.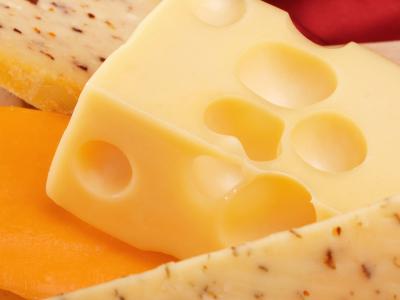 Round 1
First up was Brent. He correctly chose Bocincinni, followed by Renae successfully choosing Parmesian and Rachael choosing Fetta.
Brent was up again and chose Ricotta. Renae chose swiss cheese. The judges asked for more information and she said Gruyère, unfortunately she was wrong. This left Brent and Rachael. Rachael chose cheddar. Next Brent chose Camembert. The judges said 2 out of the 4 of them got this cheese wrong. Unfortunately it was Brie and rachael was through to the next round.
Round 2
Matt Stone stone from Greenhouse in Perth entered and had the choice of the key ingredient, ham or cheese, he chose cheese.
Rachael decided to make a cheese soufflé. She had cooked 3 or so successful soufflés in the past.
Matt Stone cooked a salad. It seemed like an odd choice for a cheese dish at first but he put a cheese flavour through most elements. He soaked his carrots in whey then made a carrot reduction with a bit of glucose.
Rachael decided she wanted to cook grilled mango under her lobster dish. Kylie wasn't sure that would go together. It doesn't go together, right? And, where's the cheese? It's in the soufflé but that's like a separate dish.
First to be judged was Matt's Carrot and manchego salad. It was plated like a "restaurant dish", very colourful and lots of cheese. The dish was "all about cheese" it was a delicious dish. Gary liked the crunch and the sauce added sweetness and acidity to the dish. Matt Preston thought it could have had more sweetness and acidity in a salty dish.
Rachael's twice cooked cheese soufflé with lobster and mango was judged next. The judges questioned the odd combination of cheese soufflé with lobster and mango. Gary almost choked when he put the cheese soufflé, lobster and mango together. The combination didn't work.
Matt Stone's dish scored:
Matt – 8/10
Garry – 7/10
George – 8/10
Rachael's dish scored:
Matt – 5/10
George – 5/10
Gary – 5/10
Matt Stone obviously won tonight.