Masterchef Elimination tonight was between Brent, Ben, Rachael and Tash. Spoiler: We reveal who was eliminated tonight. The Contestants had to bid for ingredients at an auction between themselves. They started with 100 minutes and had to use these minutes in 5 minute intervals to bid on ingredients.
Spoiler: We reveal who is eliminated below.
The first set of ingredients were the proteins. There was a Rib eye that started the bidding. Brent and Ben both bid it out. Ben knew Brent wanted it so up-bid him until Brent finally got it for 25 minutes.
Next was Pork Belly, which Rachael won for 25 minutes, Ben got the pigion and Tash got a mackerel for free.
Next up was the vegetables. Ben won a "nightshade" basket which contained tomatoes and capsicums for 15 minutes. Brent and Rachael battled it out for assorted root vegetables but Brent won them for 25 minutes. The asian vegetables went to tash for 45 minutes after a long bidding war with Rachael and Rachael got foraged ingredients from the garden for free.
Next up were sauces, pantry staples, dairy and spices.
Tash won sauces for 25 minutes. This left her with 30 minutes to cook. The pantry staples (flour, etc) went to Rachael for 25 minutes, leaving her 50 minutes to cook.
Brent really needed the dairy but he was bidding against Ben. He didn't want to be left with too little time so had to pass it up with Ben taking them for 25 minutes, giving Ben 55 minutes to cook. Brent ended up with the last basket of spices and 50 minutes to cook.
The race was on. Ben had the longest time to cook so he started first. He was going to make a capsicum custard, the judges weren't too sure about. Brent really struggled with coming up with something to cook and decided to make a puree to go with his rib eye.
Rachaels pork belly came out black. She tasted one and thought it was delicious, but Matt Preston came over, tasted it and his "eyes said everything". With 15 minutes to go, she had to cook it again.
Tash had to de-bone her Mackerel, which took up a lot of her time.
The contestants all got through it in the end. Rachael's dish looked very sparse, Tash's looked amazing, Ben's was very well presented and Brent's looked OK but his puree looked dry.
Brent's Braised rib eye steak with smoked beetroot and carrot puree was first to be judged. George said it was a brilliant dish. Matt Preston liked that every element delivered a different taste to the dish. It was "clever and modern".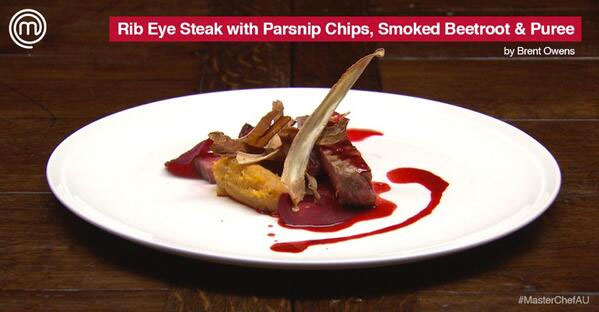 Tash's harissa stuffed mackerel with asian greens was next. It was delicious. George said if you were to first to task mackerel, this is the dish you'd want to eat. The vinegar balanced out the dish well. The judges said she was a very clever cook.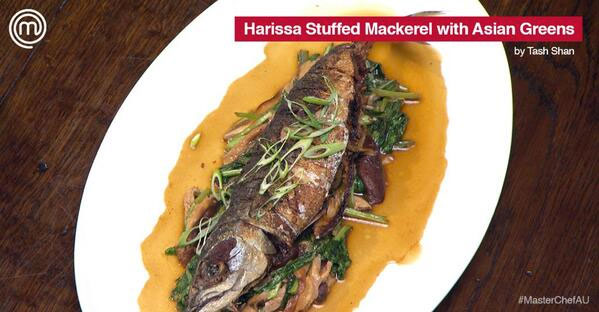 Next up was Ben's roasted pigeon with aubergine puree and green pepper custard. The judges had never seen a green pepper custard before. The judges were eager to taste the green custard. The were surprised, it tasted delicious. The pigeon was cooked perfectly. There could have been less sauce.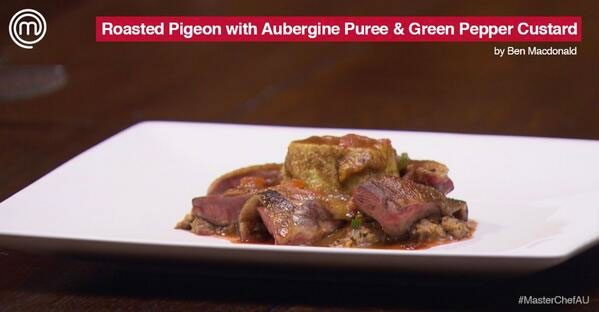 Finally, Rachael's saltbush pork with native greens was judged. She almost broke down in front of the judges, the dish looked terrible. George said "how can i look at this and say its a good dish". Matt Preston said he thought Rachael knew she was going home after cooking this dish.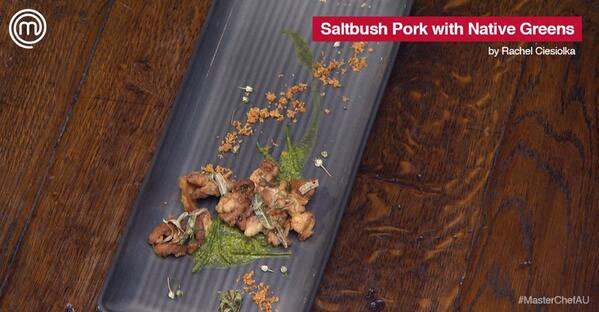 The person eliminated from Masterchef tonight was Rachael.