Tonight is the last Masterchef 2014 immunity pin challenge. It is Amy, Laura and Ben who will be up to win the immunity pin. Round 1 was the three contestants had to place the cuts of beef on an outline of a cow in the correct position.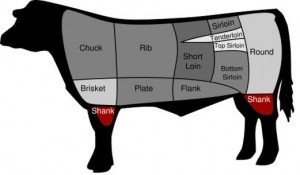 Laura was first to ask to be check, she had 5 wrong. Next was Ben, he was wrong, Amy was also wrong. The second guess saw Laura have 3 wrong, Ben only had a couple wrong but Amy got them all right. Amy won round 1 and was in to the immunity pin challenge.
Amy's was up against John Lawson from No.8 in Melbourne. He had the choice of ingredients tonight was "Bitter" or "Sweet" and chose "Bitter". Amy had a 15 minute head start and chose a lobster from the pantry. She didn't really know what she was going to cook. After the 15 minutes were up, Amy still didn't really know what she was going to cook.
John had a clear idea of a dish and picked quail as his main ingredient along with lemon, lime, radicchio and spices. With 30 minutes to go, Amy had still only prepared the lobster and cooked the tail. She started cutting the shell off the tail and it was still raw. She suddenly had an idea for her dish, and it was full steam ahead. She cooked prosciutto, mayonnaise and sorrel.
Judging
The first dish to be judged was John's pan-fried quail with braised radicchio and pancetta. The quail was cooked perfectly, the pancetta balanced out the bitterness. The judges liked it, it was a comforting dish and all the elements were cooked perfectly.
Next was Amy's poached lobster, citrus sorrel and lobster mustard mayonnaise. The lobster was perfectly cooked, it had 'proven flavours' and the salty prosciutto was the perfect addition.
Amy's dish:
Gary – 8
Matt – 7
George – 7
Total: 22/30
John's dish:
Gary – 9
Matt – 8
George – 8
Total: 25/30
The winner tonight was John Lawson