See the MasterChef 2015 Competition NovaFM Code Word here
Find the Masterchef competition codeword here. To celebrate the return of MasterChef on TEN, MasterChef is giving you the chance to win big!
Watch each night for the Masterchef competition code word or check below and you could share in $50,000 cash from Bendigo Bank, or a stack of small kitchen appliances from Harvey Norman, or even a year's worth of groceries from Coles!
SMS the code word each night plus you full name, address and state to 19 95 10 10  for your chance to win, SMS cost is $0.55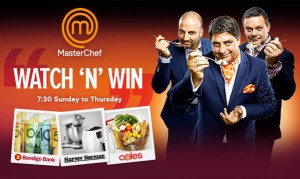 Here are the code words:
5th June 2014 the code word is 'DELICIOUS'
4th June 2014 the code word is 'CELEBRATE SPECIALS'

3rd June 2014 

the code word is 'ICE CREAM

'

2nd June 2014 

the code word is 

'COOKIES'

1st June 2014 

the code word is 

'BANANA BREAD'

29th May 2014 

the code word is '

PLANETARY'

28th May 2014 

the code word is '

SLOW COOKER

'

27th May 2014 

the code word is 'COLD PRESS

'

26th May 2014 

the code word is '

STEAMER'

25th May 2014 the code word is 'SOUS VIDE'

22nd May 2014

 the code word is 'COMMUNITY'
21st May 2014 the code word is 'BASIC BLACK'
20th May 2014 the code word is 'BANK'
19th May 2014 the code word is 'BENDIGO'
18th May 2014 the code word is 'BIGGER'