Tonight is the Masterchef Australia 2014 Final. It is a pressure test between the two Masterchef finalists, Brent and Laura. Who won Masterchef 2014? We will find out tonight and we will be live blogging the show.
The contestants will be cooking three rounds. There are 100 points and the contestant with the most points at the end of round 3 will win Masterchef 2014.
Round 1 – Mystery Box
The first round was a Mystery Box round. Under the lid was nothing. Brent and Laura had to choose the ingredients of the mystery box from a selection on the table.
7:45PM Laura chose first and chose Scampi. Brent was next and chose garlic. Next round Laura chose anchovies and Brent chose cabbage. Laura chose pearl barley and Brent chose fennel. Finally, Laura chose chervil and Brent chose sherry.
7:47PM Laura was cooking grilled scampi with anchovy butter, pickled cabbage, scampi roe and pearl barley. Brent is cooking textures of pearl barley, poached scampi, pickled red cabbage and fresh chervil.
7:49PM Laura forgot that her pan was hot, she picked it up and burnt her hand, spilling her pan of garlic and sauce all over the floor. "The pressure of the final is getting to me" she said, "and i'm starting to make mistakes"
7:51PM Commercial break, we're here for 2 1/2 hours guys, time grab a drink!
7.55PM With 30 minutes to go, Laura soldiers through the pain. Brent puts his garlic on and races over to get something from the shelf, and ends up burning the garlic. He had to start it again.
7.57PM That went quick, there's 10 minutes to go. Laura starts cooking her scampi in the anchovy butter, Brent puts his scampi heads in his sauce and George makes some "scampering" jokes.
7.59PM The contestants start plating up. Brent's is vibrant and colourful with the pickled cabbage and chervil. Laura's also looks good. She was really happy with her dish. Brent was happy with the presentation but was worried there wasn't enough acid.
8:01PM The judges taste Laura's dish. There was suspense. All 3 tasted it before commenting. George said he loved the fact that she is staying true to herself. He loved it, it was delicious. Gary said the flavours were all there, it was sweet and delicious. Matt said it was a beautiful dish, you taste it and you are transported somewhere in the south of Italy. The scampi were cooked absolutely wonderful, but maybe just a little bit more "zing" from the cabbage.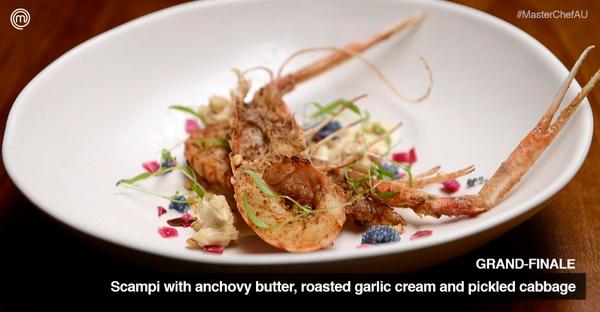 8:03PM Brent's dish was judged next. Gary loved the red cabbage sauce and the sweetness of the dish. George loved the scampi, he said it was "delicious". Matt said that it was remarkable rare to see something "new" and "innovative" but loved the liquorice sweet, intense sauce. He was "excited", "inspired" and the dish looked "unbelievably beautiful"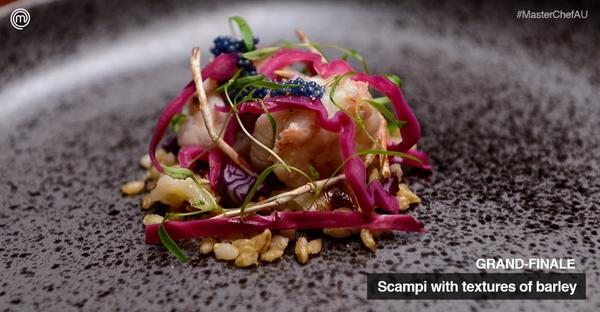 8:10PM Laura's scores were in:
George: 9/10
Gary: 8/10
Matt: 8/10
Total: 25 points
8:11PM Brent's scores:
Matt: 9/10
George: 9/10
Gary: 9/10
Total: 27 points
This gives Brent a 2 point lead over Laura.
Round 2 – Chef's Table
8.13PM The challenge in round 2 was taking charge of a "chef's table". They will have "3 VIPs" sitting right in front of them while they cook. The VIPs where their families.  Laura had her parents and her Nonna, Brent had his parents and his girlfriend.
8:17PM The contestants had to cook one savoury dish. They had 90 minutes to cook 6 plates of food. Brent didn't have a dish in mind, he ran to the pantry and grabbed some lamb. Laura chose some sicilian inspired ingredients, including a lobster.
8:19PM Laura was making freshly cooked scallops, butter poached lobster and panzanella. Gary wasn't sure how she was going to make all the ingredients "make sense". Brent was making his modern take on lancashire hot pot, reinventing it to make it modern.
8:26PM Laura got her lobster poaching, Brent started on his lamb and parsnip puree.
8:29PM Brent decided to cook his lamb medium, he said the judges wouldn't like it so cooked, but it was for his mum. Meanwhile, he burnt his galettes and had to start them again.
8:32PM Brent burnt his second lot of galettes. He ran to the pantry but realised his other components were burning and his reduction was reduced too long. Laura's lobster was overcooked, so she put some more on the pan. Brent decided to fry his potatoes and make chips. But his plan C failed as well, he burnt them yet again.
8:34PM With 10 seconds to go, the contestants were throwing the ingredients on the plate, they both got their dishes up, but Brent had to abandon his potato element.
8:39PM The first dish to be judged was Laura's. The judges sat around the table with her family. Her Nonna said it was fantastic, her dad said it was "faultless". George said it was cooking with heart and soul. Gary was worried about the balance of flavours but she put them together brilliantly, it was a tasty dish.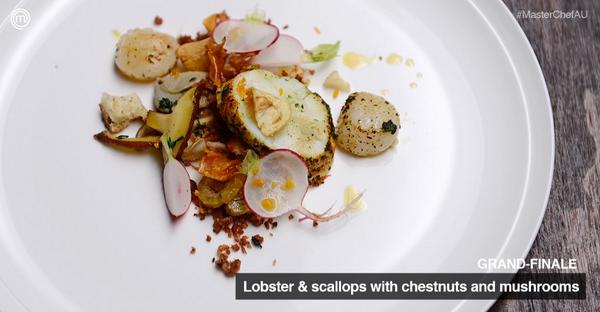 8:41PM Next was Brent's dish. His dad said it was sensational. Matt said the lamb was ideal, it was refined cooking but he said you could never ever have enough crunchy potatoes.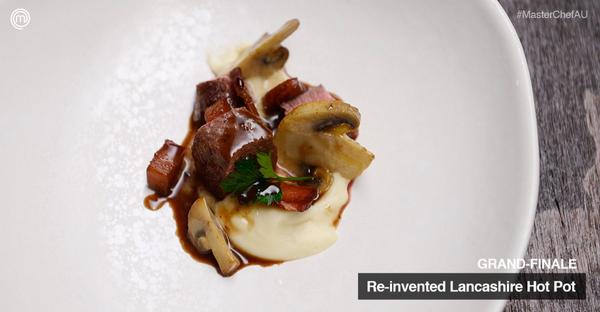 8:43PM Laura's scores:
Gary: 8/10
George: 8/10
Matt: 8/10
Brent's scores:
Matt: 7/10
George: 7/10
Gary: 7/10
This meant the scores were Laura: 49 and Brent 48. There was only 1 point between the two. It was down to the last round
Round 3 – Pressure Test
8:50PM The final round was a pressure test. Peter Gilmore entered the room.
8:53PM Peter said the dish was at least twice as hard as the infamous snow egg. It was a dish called "Chocolate Ethereal"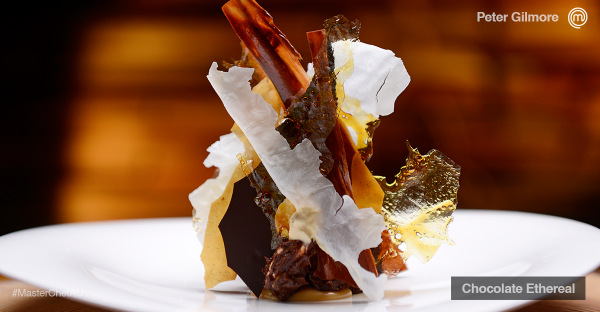 8:57PM The dessert was crazy hard. It had several different sheets of tempered chocolate, praline and caramel. It had nougat, salted roast almonds, it looked almost impossible.
8:59PM The contestants had 3 hours, and the time starts now. They ran to their benches and started studying the recipe.
9:01PM Both Brent and Laura made their milk skin element, it went into the oven to dehydrate for an hour and it was on to the nougat, the hardest element to get right according to Peter. Laura read the recipe wrong at this stage and mixed the wrong ingredients together. The judges tried to hint that it was wrong but Laura didn't realise.
9:07PM After 45 minutes in, Laura realised her mistake and was very upset. She carried on and started the Nougat again.
9:12PM Both contestants were smashing through elements. They were on to the tempering of the chocolate. Laura was working on her chocolate and it seized. She must have gotten water in it.
9:15PM Laura felt like giving up, the ex contestants were trying to cheer her on but she was overwhelmed. George came over and gave her a pep talk and tried to get her to pick herself up and she was off again.
9:21PM Laura microwaved her chocolate to get heated quickly. She got her tempered chocolate done. There was only 15 minutes to go. Brent was sailing though up to now. It's now hectic. The contestants have 20 minutes to plate up once time was up.
9:23PM There was 5 minutes to go and the ex-contestants were screaming. With 1 minute to go, Brent was checking the recipe, he forgot the butter sheet. Laura was trying to peel boiling hot caramel off a sheet. 3, 2, 1. It was done. Time was up.
9:25PM Brent says regardless of the result, they are both winners already. First to plate up was Brent. He chopped his nougat and joined it with his praline and ganache. The plating was intense, he was trying to be delicate with his shards and mimic Peter Gilmore's dish. He took it to the judges.
9:28PM The judges were ready to taste. Peter said he did an amazing job. The starch sheet tasted good. The almonds were perfect and the nougat was good, the texture was just right. As an eating experience it was very good. Peter was very impressed being the first time Brent had done some of the techniques.
9:30PM It was Laura's turn to plate up. She wanted to make it as beautiful as possible. Unfortunately she forgot to chop her nougat up, which would make it hard to eat. Could this be the mistake that sees her lose?
9:36PM She took her dish to the judges. They love the look of her dish and were pleased she put up the dish. George commented on how shiny the tempered chocolate was. But there weren't as many sheets. Peter had a hard time breaking up the nougat. It wasn't the same as an "eating experience".
9:46PM Laura's scores were first:
Gary: 8/10
George: 8/10
Matt: 8/10
Peter: 7/10
Total score for the night: 80/100
9:50PM Brent's scores were next:
Gary: 8/10
George: 9/10
Matt: 9/10
Peter: 9/10
Total score for the night 83/100
Brent is the winner of Masterchef Australia 2014.